Content marketing don'ts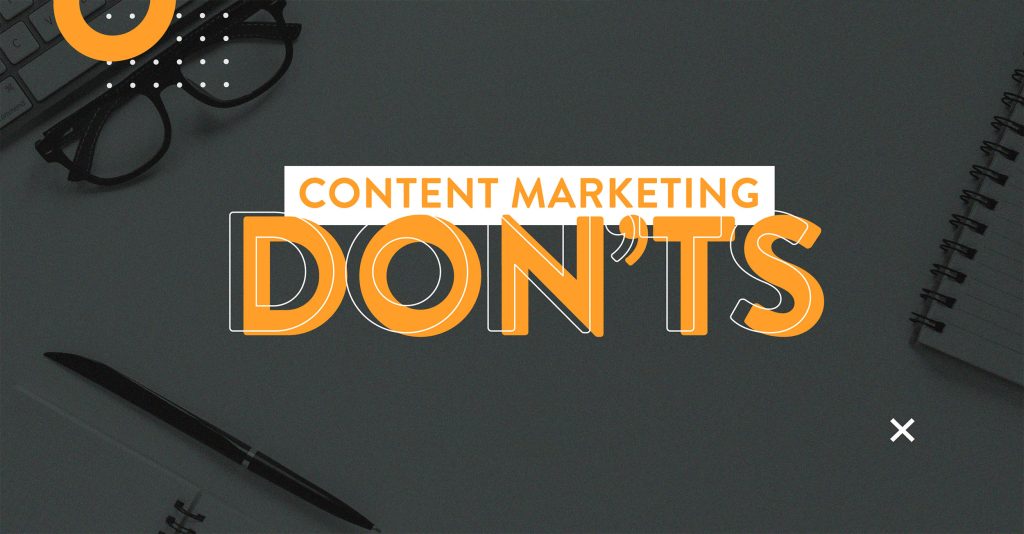 Over the years, content marketing has grown tremendously. Today's consumers are exposed to more content than ever before. This is due to the technological advancements which have led to consumers constantly reading, listening and viewing different kinds of content throughout the day.
It is for this reason that content marketing has become an extremely vital part of any marketing strategy. However, many companies are making huge mistakes in their content marketing strategies.
So here are a three content marketing don'ts:
Don't…
Keyword stuff
Keyword stuffing can actually make the content difficult to read. If a specific keyword is repeated 40 times in a 400-word piece of content, it will be difficult for people to get past your first paragraph. Google also ranks pieces of content that have been keyword stuffed very low down; therefore, you can kiss the first page of Google search goodbye. As a content marketer, you need to ensure that you have optimised your content for SEO but have not gone overboard and stuffed the content full of keywords.
Ignore engagement
Content marketing is also about engagement. By engaging with your audience on social media channels, you are able to create a relationship between your brand and your customers. This is the goal of all marketing, to create a lasting bond with customers, therefore, creating a loyal following. People want to interact with their favourite brands on social media, so you need to ensure you take the time to engage and be responsive to your customers.
Hide behind the brand
Hiding behind your brand means that your content marketing has no personality. Behind every brand, there are people, with different styles, different opinions and different personalities. Consumers like to see the human side of your brand and prove that you are no just another faceless company. Publish fun posts or post with different point of views. This can help to add a more human feel to your brand. By sharing pictures of your team as well as behind the scenes stories, you can showcase the different people within your team as well as their different personalities.
*This is the first blog in a two-part series. The blog that following is entitled 'Content marketing do's'. This blog will focus on the things content marketers should be doing.
Content marketing is a strategic marketing approach focused on creating and distributing valuable, relevant, and consistent content to attract and retain a clearly-defined audience — and, ultimately, to drive profitable customer action.
Need help nailing that brand identity? At Digital Cloud, we can help. Contact us to take the first step to ultimate brand identity coherence.